50 years ago: Hundertwasser in the TV show "Make a Wish"
26. February 2022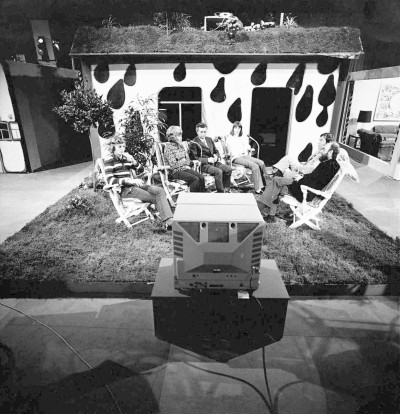 Hundertwasser presented his architectural models in the Eurovision TV show "Wünsch dir was" (Make a Wish) with Dietmar Schönherr und Vivi Bach on February 26, 1972. With the models he showed several options for the afforestation of roofs, in keeping with his concern to return territories to nature which have been taken away from it by building construction. He also wrote his manifesto "Your Window Right, Your Tree Duty" for this occasion.
We suffocate in our cities because the air is polluted and there is not enough oxygen. 
The vegetation which gives us breath and life - we kill it. 
(…)
You have the right to transform your window and the outside wall around it as far as your arms can reach until your house fits you. 
Regulations which are contrary to this right to windows or that forbid or restrict it, should be ignored. 
Housing is a human right. 
It is your duty to give all the help you can to the growing vegetation. 
The horizontal belongs to nature - the vertical may belong to men. 
All that is white in winter must be green in summer. All that gets wet with rain, all horizontal surfaces under the sky, belong to the realm of plant life. 
Woods shall grow on streets and roofs. One must again be able to breathe woodland air in the cities. 
The relationship between men and trees must gain a religious dimension. 
Then one will understand that it is true if we say: The straight line is godless and immoral.
*
The author and curator Andreas J. Hirsch explains in his exhibition catalogue "Hundertwasser – The Art of the Green Path": "The tree tenants are part of Hundertwasser's concept of restoring nature in cities, thus fulfilling the obligation of returning areas that have been wrenched from nature – a demand that is derided at the time, but today appears to make perfect sense climatologically. Here Hundertwasser proves to be an ecological visionary who – initially, in his paintings, artistic actions and texts, and, subsequently, also in his buildings – anticipated many things that are now becoming established in terms of re-greening urban space, for instance "vertical gardening.""